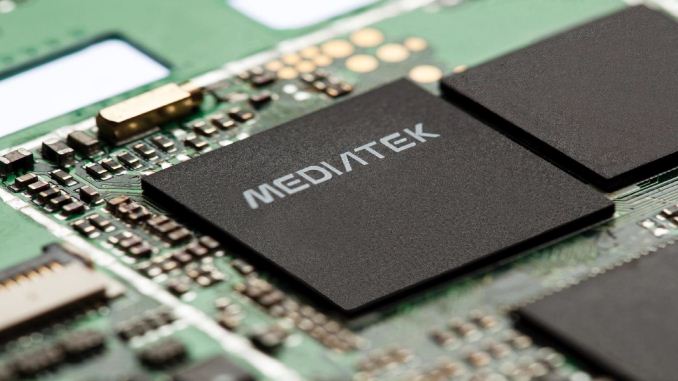 MediaTek added two additional products to its premiere deca-core SoC family today. The Helio X23 and X27 join the previously released Helio X20 and X25, adding additional performance levels for OEMs to choose from.
All four SoCs use the same deca-core CPU configuration—two ARM Cortex-A72 cores for heavy workloads that require higher performance and two quad-core Cortex-A53 clusters, using different DVFS curves, for medium to light workloads where lower-power operation is desirable. MediaTek's custom-developed, power-aware scheduler, CorePilot 3.0, still handles thread distribution. The differentiating factor is clock frequency, with peak frequencies increasing from 2.1GHz / 1.85GHz / 1.4GHz (A72 / A53 / A53) for the X20 to 2.6GHz / 2.0GHz / 1.6GHz for the new X27. The ARM Mali-T880MP4 GPU runs at up to 780MHz in the X20 and X23 and up to 850MHz in the X25. The new X27 bumps the GPU frequency even higher to 875MHz, just shy of the 900MHz peak frequency used by HiSilicon's Kirin 950/955 that also uses a Mali-T880MP4 GPU.
MediaTek Helio X2x Family
SoC
MediaTek
Helio X20
(MT6797)
MediaTek
Helio X23
MediaTek
Helio X25
(MT6797T)
MediaTek
Helio X27
(MT6797X)
CPU
2x Cortex-A72
@2.1GHz

4x Cortex-A53 @1.85GHz

4x Cortex-A53 @1.4GHz

2x Cortex-A72
@2.3GHz

4x Cortex-A53 @1.85GHz

4x Cortex-A53 @1.4GHz

2x Cortex-A72
@2.5GHz

4x Cortex-A53 @2.0GHz

4x Cortex-A53 @1.55GHz

2x Cortex-A72
@2.6GHz

4x Cortex-A53 @2.0GHz

4x Cortex-A53 @1.6GHz

GPU
ARM Mali-T880MP4
@780MHz
ARM Mali-T880MP4
@850MHz
ARM Mali-T880MP4
@875MHz
Memory
Controller
2x 32-bit @ 933MHz
LPDDR3

14.9GB/s b/w

Encode/
Decode
encode:
2160p30
H.264 / HEVC w/HDR

decode:
2160p30 10-bit
H.264 / HEVC / VP9

Camera/ISP
Dual ISP
32MP @ 24fps (single camera)
or
13MP + 13MP @ 30fps (dual camera)
Integrated
Modem
LTE Category 6
DL = 300Mbps
2x20MHz CA, 64-QAM

UL = 50Mbps
1x20MHz CA, 16-QAM

FDD-LTE / TD-LTE / TD-SCDMA / WCDMA / CDMA / GSM

Mfc. Process
20SoC (planar)
Both the Helio X23 and X27 are manufactured on the same TSMC 20nm process as the X20 and X25. It's not clear if MediaTek made any implementation changes to push the X27 to higher frequencies, but the fact that its A72 cores can hit 2.6GHz on a 20nm planar process is interesting considering ARM only targets frequencies this high on 14nm/16nm FinFET processes.
Other blocks within the X23 and X27, including MediaTek's Imagiq ISP and integrated Category 6 modem, remain unchanged. The ISP still includes support for dual camera sensors, including color + monochrome configurations that can capture more light than a single color sensor, potentially improving low-light photography. There's also a 3D depth engine built in to enable depth-of-field post-processing effects.
Products using the new Helio X23 and X27 SoCs have yet to be announced, but MediaTek says smartphones using the new chips will be available soon.
Source: anandtech vr