Insten Black/ White Virtual Reality Glasses VR Headset with Adjustable Head Band for 4.7 to 6-inch Android/ iOS Smartphone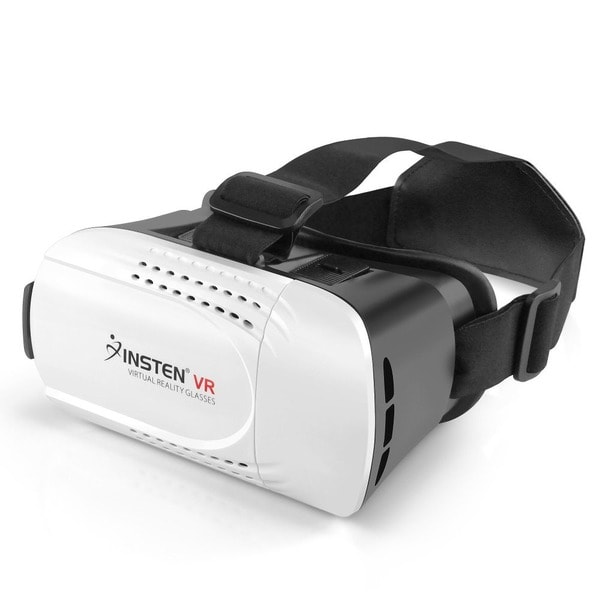 One (1) 3D Virtual Reality Glasses with Head Band Experience virtual reality in a simple and fun way Color: White/ Black Material: ABS Plastic Universal: Compatible with phone with 4.7 - 6 inch display Premium quality: Using 42mm diameter spherical resin lens material while without using any stimulation plastic sheet Lightweight and portable design Offering a 1000-inch big screen at a distance of 3m Providing super 3D picture effect The use of resin lens prevents you from feeling visual fatigue or dizzy even you use it for a long time Special adjustable T-shaped straps design which suits different ...
Buy Now
$17.99

Related Products
$7.99
Features: This device supports 3D games, and 3D split screen movies. Please search it up on app store or other place such as youtube. If you have Android OS use "Cardboard" in Google Play (needs Android 4.1 or above in order for the app to work). If you have IOS OS use "Cardboard" in App Store. Compatibility: iPhone 4 and above Samsung Galaxy S4 and above Google Nexus 4 and above HTC One or above Motorola Moto G and above. This VR has a large FOV which offers you 3D picture effect. The resin lens will not make you dizzy. This device is made with ABS which fits you comfortably. Focus and pupil are adjustable. Package Contents: 1 x 3D VR Box Virtual Reality Headset Glasses 1 x Bluetooth Remote Controller 1 x User Manual 1 x Cloth Warnings: 1. The remote controller only can support volume up, down and mute and Self-timer on all IOS device. 2. This device doesn't support google cardbox apps. 3. This supports 3D movies, etc
Buy Now

$19.99
Welcome to the Alpha VR Headset, a new and affordable foray into the breathtaking world of virtual reality. Because it uses your smartphone, it works with hundreds of free and inexpensive VR apps in the App Store and the Play Store. So, whether you want to watch 3D movies, explore new worlds, play immersive games, or you're just looking for a quick departure from the real world - there's something for everyone. Just load up your chosen piece of virtual content, slot your smartphone into the rugged plastic enclosure, put it up to your eyes then adjust the lenses and comfortable headstraps to your liking. It's never been easier (or more affordable) to explore these vivid new environments from the comfort of your living room. Even if you don't buy it for yourself, it's definitely just as amusing to watch someone else experience it.
Buy Now